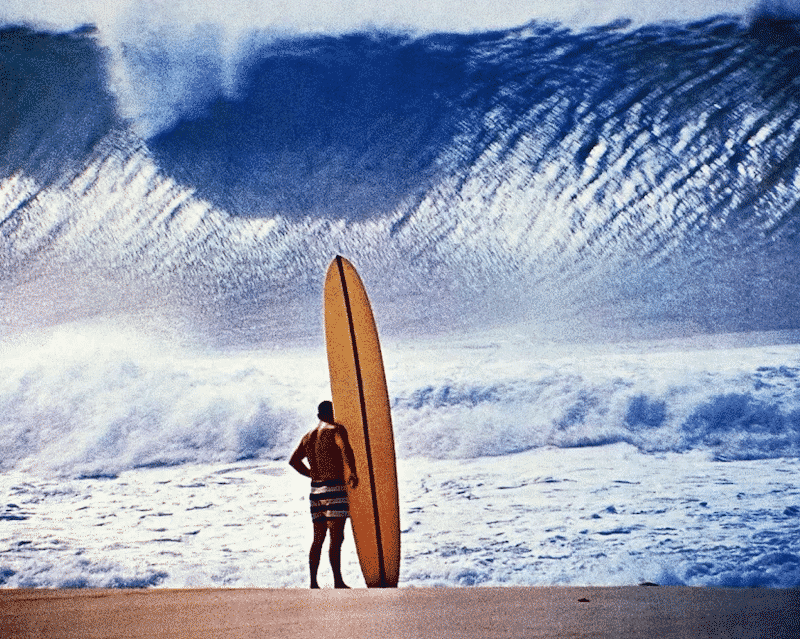 A state of emergency has been declared in Hawaii, the spiritual home of snow-beaten surfing, days of potential catastrophic flooding before HIC Pipe Pro on the iconic Banzai Pipeline!
The San Clemente surfboard artist to the stars is really sick and it would be nice to see him in the water again…
Drew Brophy is sick and needs your long green.
Yes, this Drew Brophy, the artist who painted the look of modern American surfing with his Posca pens and sideburns.
He has the Covid with all the trimmings including the ventilator.
Has Drew been vaxxed? He can't tell.
Either way, the cat needs help. Being an independent contractor doesn't come with goldenrod health insurance.
Lost Surfboards Instagram linked to a sad letter on Gofundme.com from Drew's brother.
You can read it here.
We know Drew's art from the Lost boards of the 90s. His work is a direct punch.
Brophy began his career with ProGlass in Haleiwa after an overheard conversation between drunks at a bar in my hometown of Myrtle Beach one evening.
They needed a new airbrush. Drew boarded a plane the next day and was gone.
Brophy found himself immersed in the demand for paint on cardboard, doing work for several fabricators. Lots of professional boards also fell under his brush, painting pretty decks and rails for big Tom Curren, Tom Carroll and others.
Between jobs, Brophy also managed to spend a lot of time in the water – the opportunities to squeeze through the included Pipeline barrels. (Brophy is a serious big wave fighting bull. Look through the April 1995 issue of SURFER and you'll see a nice photo of Drew wrapped up in perfect Puerto Escondido to the right.)
But he couldn't pay the bills, living on a thin diet of rice and his Hawaiian experience came to an end after a vicious blow to the face courtesy of Pipe reef.
Months of recovery followed, forcing Drew to give up his job and return to the mainland.
In 1996, he found a house sleeping in a friend's garage and looking for work in the middle of San Clemente, what was really going on base camp. Stewart chose Brophy to paint longboards, paying around twenty dollars a board.
But the required soft airbrush fades, leftovers from the '80s, weren't quite its bag. Brophy had started experimenting with painting pens from Japanese company Uni-Posca and developed the raw, color-drenched style, I don't care what you think would define his art.
In search of a better gig, he walked into Matt Biolos' fitness room to see that he was also a follower of the pens.
Biolos says: "I was doing similar stuff as early as 87. Painting flaming waves, skulls, demons, monsters, mushrooms… rock and roll album covers etc, on the boards of Archy and Christian Fletcher. They were getting a really big exposure in magazines about my (rudimentary) painting work. This is how I first constructed my name. We used this type of imagery on all of our early tees, starting in 1993 as well. As my crafting took over, I didn't have time to spend my hand painting boards. Drew knew we had a history of it, but he didn't see much of it on my boards anymore. He thought I would be open to him bringing it back. I was, he did, and he raced with, way beyond anyone's previous production surfboard numbers.
"His partnership with us was really good timing. All the pieces were moving well. This coincided with the popularity of our surf videos, like 'What is really wrong ' and '5'5 "x 19 1/4″'. These videos made our name appear in every trade show. Surfers like Chris Ward and Cory Lopez have had a huge impact on our boards. My forms were now sought after. We had the Round Nose Fish and these two teenage freaks. Drew's paintings gave the boards a point of difference, to the detail, and it all sort of worked together.
After a quick test of his skills, he brought Drew on board to bring his color from tip to tail of Lost Surfboards. If Biolos' genius with a planer wasn't enough to hook a surfer onto a Lost board, Drew's art was the sauce.
"We were together a lot at the start, that's for sure. People thought we were brothers, "says Biolos. "As the business grew, we moved the converting rooms to the street and the paint moved to a warehouse, at the top of El Camino Real, in downtown San Clemente. We also raised hell at night. We have traveled the world, building the brand… Lost and our own brands. Peru, Brazil, Europe, Japan. We surfed and had a lot of fun.
With Mayhem Shapes filling racks in stores around the world, Drew's work became instantly recognizable, no doubt sending groms on all coastal runs to the Craft Store in search of Wide Tip Sharpies to ruin. their boards.
In each of its painted planks, rows of monstrous waves parade like soldiers taking a beach, howling blood orange suns spread their rays of anger in the sky, cartoonish skulls line the impact zones laughing. Dripping and stumbling on the rails, Drew's images transported the surf-art genre in a direction that surely would have made Rick Griffin grin.
His current business, Son of the Sea, is focused on selling Brophy's original artwork. But he also does something rare and beautiful: Brophy reveals his painting secrets through videos and demonstrations around the world. While many artists prefer to keep the tips close to the chest, he shares his techniques without batting an eyelid.
Brophy mostly surfs near his home in San Clemente Pier, Lowers, or Salt Creek when the weather is good, and even tries to spend a few days north in Mavericks and Ocean Beach each year.
But now he's sick and it would be nice to see him in the water again.
If you're that inclined, throw a dollar his way.