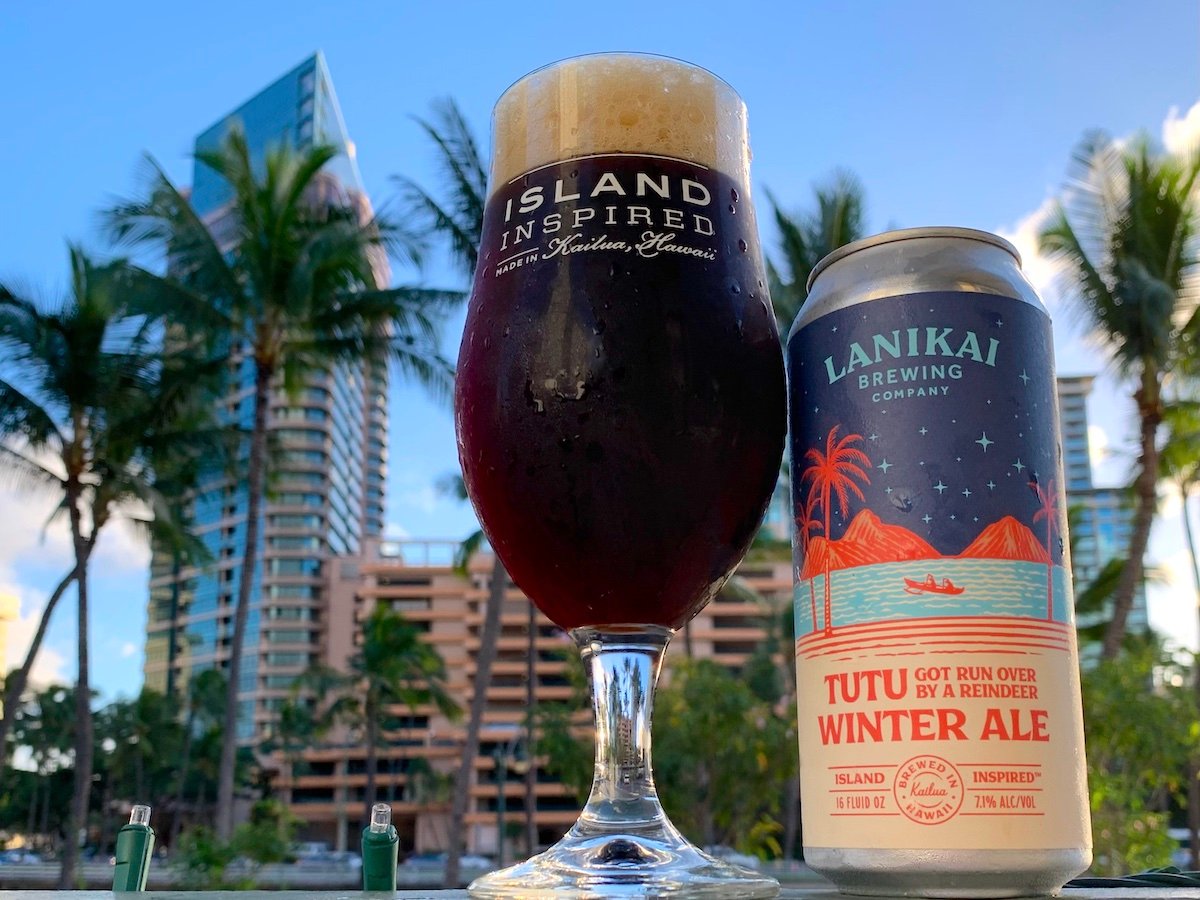 Beer Christmas! Try these special holiday beers brewed in Hawai'i
VScoconut roasting on an open fire, present under the palm tree. Vacation is finally here !
While no style of beer is synonymous with winter vacation, many lend themselves to chilling with bold toasted flavors, warm spices, and higher alcohol to keep you in shape. Even in Hawai'i, it's cold and windy enough to enjoy these heavier beers. Stouts, Imperial Stouts, Winter Warmers, and even IPAs can all contain flavors and ingredients that remind us of the fuzzy feelings of vacation reunions with family and friends.
The Winter Seasonal Beer category of the Beer Judges Certification Program leaves the features open to creativity. Balance is the key to winter beers, with the added ingredients complementing the base beer rather than overpowering it. As the list below shows, the basic styling is left to the brewer. BJCP describes winter beers as having a higher alcohol content and a wealth of ingredients to share with friends. Spicy winter beers are typically American or Belgian, as English and German breweries do not brew with spices. Classic spices should be suggestive of the season and include allspice, nutmeg, cinnamon, cloves, ginger. Fruit and dried fruit rinds are used like orange, lemon, fig, and raisins, with added sweeteners used in brewing like molasses, brown sugar, honey or maple syrup.
SEE ALSO: Your Guide to O'ahu's Unique Collaboration Beers
You may already be familiar with annual classics such as Samuel Adams Winter Lager from Boston Beer Co. or Our Special Ale from Anchor Brewing. If you want to sip something strong and festive while supporting our independent local breweries, try them:
Tutu got run over by a reindeer winter beer
Lanikai Brewing Co.
blood alcohol level 7.1%
Sporting the brewery's new logo and label design, Tutu is back to celebrate the season. Brewed with locally grown allspice and orange zest, this Hawaiian winter beer "will warm you up and give you relief from those cold days in the heavy waves." The brasserie recommends pairing it with all your holiday meals because of the delicacy of the allspice. Get it on tap (12 ounces for $ 8) at Tap & Barrel in Kailua and in 100% compostable and biodegradable four-pack ($ 18 for two) wherever their beer is sold.
---
Low Elf Esteem Spicy Winter Beer
Stewbum & Stonewall Brewing Co.
ABV 8.6%
A set of draw taps and crowlers on Oahu, Stewbum & Stonewall released their very first beer packaged in 750 milliliter bottles ($ 18), available at the Brewery and Village Bottle Shop. Brewed with ginger, nutmeg and cinnamon grown on Big Island, "this winter warmer is meant to be shared with friends and family." If you try it on tap at the brewery, this writer recommends Reuben Pizza!
SEE ALSO: Stewbum & Stonewall finally brews beer again
Reindeer Butt Sneeze Imperial Pastry Stout
Hana Koa Brewing Co.
blood alcohol 10%
Hana Koa's first collaboration with Purve Donut Shop was so popular that they've done it again. Brewed with donuts, cocoa nibs, marshmallow, graham crackers, and candy canes, this dark, sweet beer is just what you'd expect from a liquid pastry. Get it on draft at the brewery in 5 ounces ($ 6.50) or 10 ounces ($ 12) or take out in a four pack of 16 ounce cans ($ 25).
---
Naughty IPA Milkshake
Beer Lab Hawaii
blood alcohol level 7%
One of Beer Lab's recent Friday Limited Can Releases was Nicely Naughty Milkshake's hilarious and risky IPA. Sweeter and less bitter, this sub-style of IPA may be more accessible for people who don't like bitter beer. It's brewed with frosted gingerbread cookies in mind, with marshmallow, ginger, cinnamon, cloves, nutmeg, allspice and milk sugar replicating the taste of a cookie in a glass. While cans are sold out, buy them on tap in various sizes ($ 3.25 to $ 7.75) at one of Beer Lab's three locations (subject to availability).
---
Since this isn't an exhaustive list of winter and vacation beers brewed in Hawai'i, look for them to accompany your vacation festivities on your next brewery visit or beer purchase. Long live the new year!