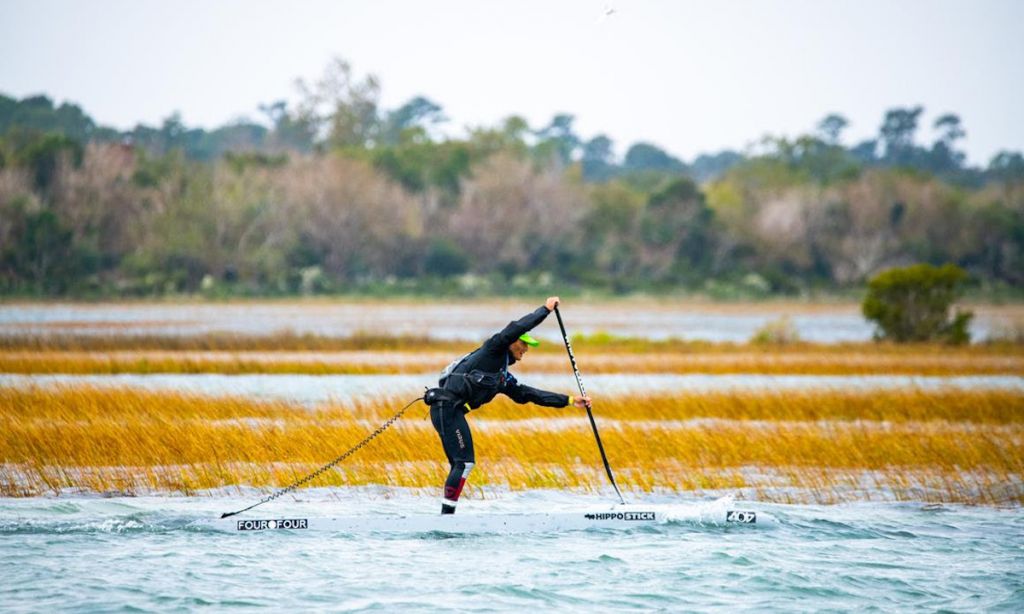 Local knowledge and experience clinch victory at Carolina Cup 2021
WRIGHTSVILLE BEACH, NC – While the Coast Guard requested a modified racetrack on Saturday morning due to choppy ocean conditions, athletes were still put to the test with winds of 20 mph, gusts of 40 mph and a relentless current in what was an epic, challenging and entertaining race for the Graveyard course.
After New Caledonian Titouan Puyo led the men's field for most of the race, followed by Japan's Shuri Araki, 4x Graveyard racing champion and paddle sports legend Danny Ching and Tamas Buday came out of nowhere and won 1st and 3rd places, having taken the inside line that protected them from the harsh conditions.
"I just tried not to lose the race in the first hour which was the downwind and the turn. I finished a little further than I hoped, but I kept enough energy and took a good enough line to bring them back. Luckily only a handful of guys took the line I was on and none of them was in front of me, "Ching said.
City heroine April Zilg battles the pain to claim her first Carolina Cup victory. | Photo courtesy of: Laura Glantz / Carolina Cup
April Zilg of North Carolina had a similar idea and swept through the women's field taking the inside line, beating American Kim Barnes and Japanese Rika Okuaki, who had to contend with paddling upwind.
April looks back on her very first victory in the Graveyard Race: "It's a very moving victory for me. It was the first race I have ever done, and the first time I did it, I didn't even finish. It's been my dream to win the Carolina Cup since the first day I bought a paddle board, so it's amazing to achieve it.
Check out the video recap of the Graveyard race below.
APP Ocean Sprints
The second day of the Carolina Cup saw the APP Ocean Sprints unfold for elite and professional paddlers. After 30-knot winds called for a modified and shortened racetrack, APP sprints saw athletes cross a 6-foot surf to do a buoy ride before coming back across the surf for a sprint on the beach to at the finish line.
The men's title was won by Hawaiian Connor Baxter after battling an all-star team in the men's final, which consisted of 2019 World Champion Casper Steinfath, 2018 World Champion Arthur Arutkin and Red Bull Heavy Water stand out Christian Andersen.
Christian Andersen (left) and Connor Baxter (right) compete in the sprints. | Photo courtesy of Laura Glantz / Carolina Cup
In one of the most exciting finishes for quite some time, a set wave arrived that could have given Casper Steinfath and Arthur Arutkin the chance to catch leaders Connor Baxter and Christian Andersen. However, that was not to be the case, as Casper and Arthur couldn't hold out as the set wave peaked and pushed them back, leaving Baxter and Andersen to fight until the end. In a neck-and-neck sprint to the finish line, Andersen tripped, leaving the door open for Baxter to win both the sprint and the overall title.
"Christian had the right line, but I had the long legs and his little misstep ended up giving me the victory. Without this misstep it would have been a dip to the finish line, "said Baxter.
After a stellar performance on day one of the Carolina Cup, local legend April Zilg returned for another win in the APP Sprints, which made it a big hit of the weekend for Zilg. Rika Okuaki of Japan, who placed 2nd, and Peruvian Giannisa Vecco, who placed third, were also on the podium for the women's sprints.
The weekend's success story, however, is 15-year-old Shuri Araki, aka Shrimpy, who traveled thirty-five hours from Japan to compete in the Carolina Cup. After beating several World Tour veterans throughout the weekend, he returns to Japan with a 3rd place overall after an incredible performance that ranks him among the best in the world. Check out the video recap of the sprints below.
Results
The cemetery race
Winners of the men's division:
Danny Ching, California, United States
Titouan Puyo, New Caledonia
Tommy Buday, Canada
Shuri Araki, Japan
Connor Baxter, Maui, HI
Itzel Delgado, Peru
Daniel Hasulyo, Hungary
Kaelan Lockhard, Australia
Tyler Bashor, California, United States
Arthur Arutkin, France
Women's division winners:
April Zilg, North Carolina, United States
Kimberly Barnes, Florida, United States
Okuaki Rika, Japan
Juliette DuHaime, Argentina
Kattie Carpenter, Grand Rapids, Michigan
Wendy Tillett, Quebec, Canada
APP Ocean Sprints
Winners of the men's division:
Connor Baxter, Maui, Hawaii
Christian Anderson, Denmark
Arthur Arutkin, France
Casper Steinfath, Denmark
Josh Riccio, Maui, Hawaii
Shuri Araki, Japan
Itzel Delgado, Peru
Rai Taguchi, Japan
Women's division winners:
April Zilg, Lake Hyco, North Carolina
Rika Okuaki, Japan
Giannisa Vecco, Peru
Juliette DuHaime, Argentina
Caroline Kuntzel, Denmark
14 'SUP Silver Island
Winners of the men's general classification:
Steve Phillips, Wilmington, North Carolina
James Nickerson, Lender, Texas
Austin Winkler, Charleston, South Carolina
Winners of the general female classification:
Jenna Blackburn, Wilmington, North Carolina
Kristin Thomas, Laguna Beach, California
Stella Gan, Canada
Harbor Island SUP 14 '
Winners of the men's general classification
Jeff Berry, Rochester, New York
Steve Johnston, Wilmington, North Carolina
Don Finn, Walls, NJ
Winners of the general female classification
Rachel Cantore, Bluffton, South Carolina
Karin Helfmann, Atlanta, Georgia
Brittany Carey, Annapolis, MD
Stay tuned for highlights and full photos on @appworldtour and for the full results click here.
About APP World Tour and Waterman League International
The APP World Tour is the professional world championship for the sport of paddlesurfing (also known as SUP / Stand Up Paddling / Paddleboarding), officially sanctioned by the Surf Sports Federation recognized by the IOC, ISA ( International Surfing Association). Renamed in 2017 as the APP World Tour (previously known as the Stand Up World Tour and Series), the APP has crowned the world champions of men's and women's sports in running and surfing since 2010.
The APP World Tour produces a comprehensive inventory of programming, including live and post-produced broadcasts from its events, with distribution to over 100 countries around the world via leading global networks such as CBS Sports and Fox Sports Asia & Australia. More information is available on appworldtour.com and fans can follow @appworldtour events on Facebook and Instagram.