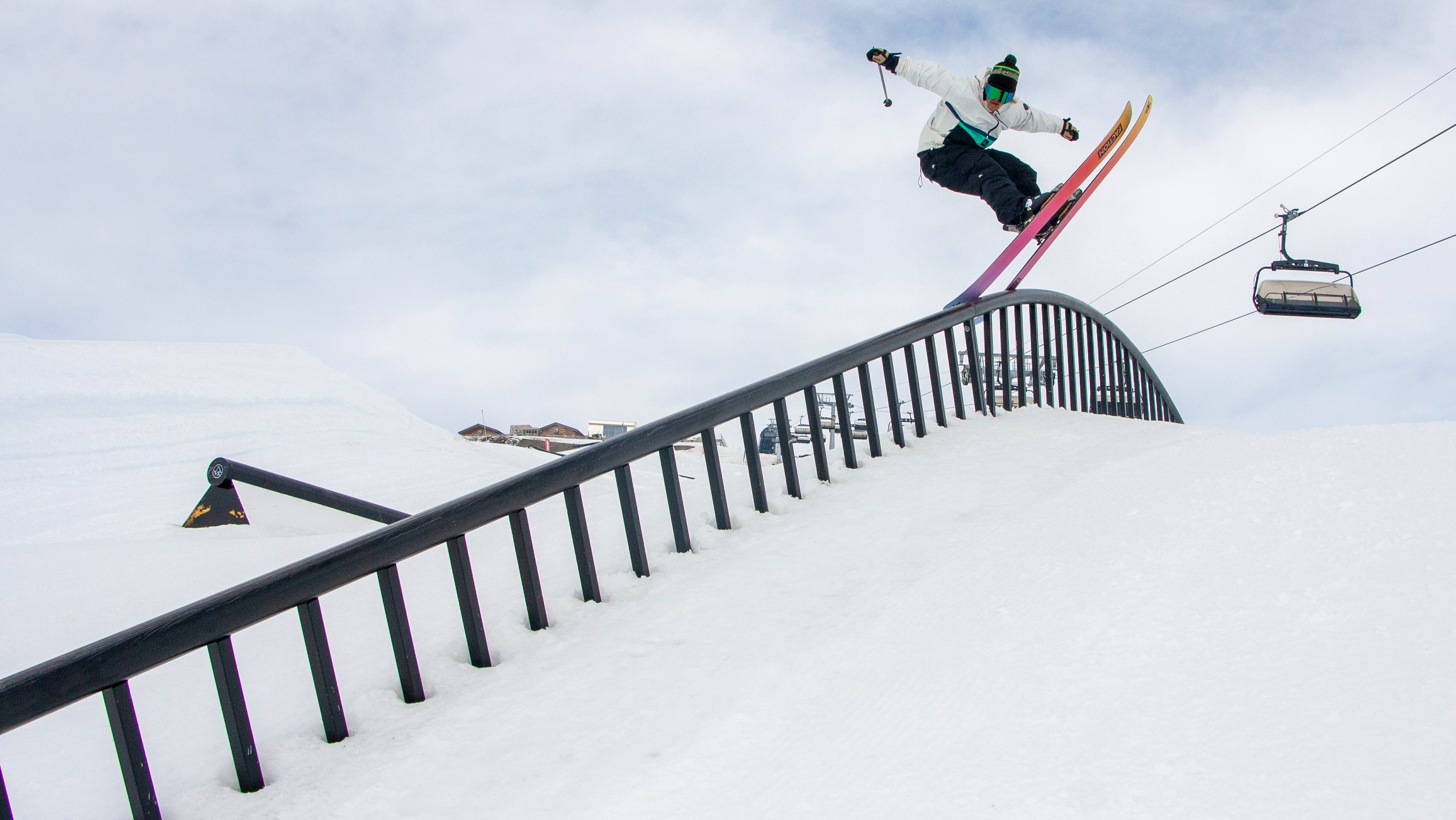 Quiksilver Surf The Mountain Tour – 2 Vans, 5 Classic Resorts and Endless Hangovers
Photos: Hanne Lundin
It's weird to me that there aren't more laps in winter sports. Back when I was skateboarding, there were tours pretty much constantly. The best known skaters rarely went off the tour, they just bounced around from tour sponsor to sponsor. But in my growing career in the ski industry, I can only think of a handful of "real" rides in mind. Which makes the Quiksilver Surf La Mountain tour all the more unique.
Quiksilver recently took two rider and crew vans to the Alps for a whirlwind tour, visiting 5 resorts and at least twice as many parties in quick succession. Antti Ollila and Finn Bilous were the representatives of skiing in a crew loaded with board sports, and both had coveted during the first two stops. They still managed to take Chamonix, Avoriaz and Crans Montana in the space of 6 days.
Antti flies above Crans Montana
As a team, they've hit resorts, won après ski, river and wave pool surfing, skateboarding…and driven and driven and driven. That's why when I headed to Crans Montana to catch up with them on the last day of the tour, everyone was pretty exhausted. Antti still climbed the mountain during a ragged that day, which is when we stacked these pics, and Finn was smashing her on a surfboard that night… but if you have ever been on one of these trips, you know the toll they take. It was strange but impressive to hear Finn apologize for not coming to ski that day because he was leaving for his Freeride World Tour debut the next day (FYI, he crashed it, crashed pointed out, go watch his runs).
It's always inspiring to see Antti tear up on the boards in person, he makes it so easy. It was very windy and he was definitely hungover, but he still managed to throw himself even on the jumps. And the Crans park is unreal even though it was my first real park shredding repair after the ACL repair, which added an element of dread for me.
Hangover boost
Hearing the guys talk lyrically about touring in the Alaïa Bay bar that night really made me realize that touring in general really should have more of a place in skiing. Finn, who it's fair to say has plenty of experience in ski trips, called it "one of the best weeks I've had skiing." Fresh off a trip to Beijing, this clearly made a welcome change. As Finn said, "I wish more brands would do that."
Finn Bilous Surfs (front) The Mountain
It was really cool to see how well Quik treats their riders and how well they fit into the brand. The last stage in Crans also served as a general assembly for the brand, bringing together representatives, designers and headquarters staff, as well as athletes. Finn & Antti were able to spend time with designers working on future collections and giving them direct feedback. As Finn said, "Rarely do you get that, to meet all the designers and retailers. It gives us riders insight into the business." With Quiksilver being such a big company, I was really impressed with how collaborative it was. Antti, who has always taken his time to find the right sponsor matches, simply said: "It's sick to feel part of the brand, part of the family".
Watch the video of the tour (another thing skiing tends to miss) below for some great spring moments:
https://www.newschoolers.com/videos/watch/1038217/Quiksilver-Surf-the-Mountain-Tour