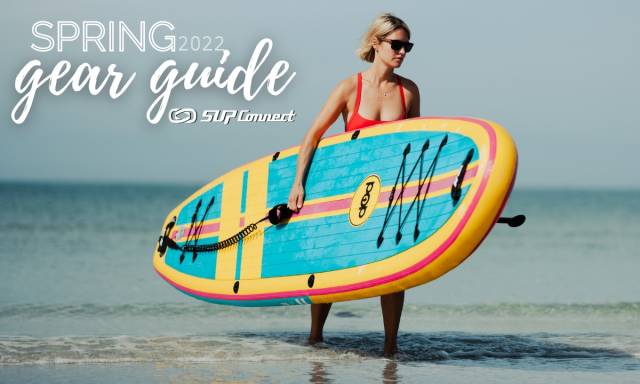 Spring 2022 SUP Equipment Guide
SIC Maui Tao Air Surf
The TAO Air is explicitly designed for the paddler who wants a board to take with the family, ride small to medium sized waves, take a SUP yoga class or cruise the shore. Made from the best Drop Stitch Construction (DSC) and lightweight and durable Support Stringer Technology (SST), these boards are light, stiff and reliable. They come in a complete set with a 3-piece adjustable paddle, ready to go whenever you want. Learn more.

Body Glove Performer
The Performer is better than ever. Along with an upgraded profile, inflatable Clear Tek™ wood-grain material, and laser-etched foot placement guides, it's just about the board. Starting in 2022, we're partnering with One Tree Planted to plant a tree for every Performer sold, allowing you to give back to the planet with your purchase. Whether you're a beginner paddler or an expert, we hope the Performer inspires you to adventure. Learn more.
See our review of the Performer HERE.

4-in-1 starboard wingboard
Ideal for those who want to learn how to handle a FreeWing in the water without using a foil. The wide nose and tail provide enough stability, while the length and parallel rails generate glide and speed. The removable center fin helps upwind and the foot straps indicate the best standing position to start learning. The board comes with a removable mast base for windsurfing, rail edges for better clearance and a carrying strap that can also be used as a paddle holder. As well as being a Wing – SUP- and Windsurf board, the 10'4" can be paddled with the Wing if the wind drops and the rider gets caught in the middle of a session. Learn more.

DK – O2 – Versatile
Ditch the roof racks today and score some paddle strokes on the fly. This all-purpose inflatable is something else. Inspired by one of our most popular shapes, the Allrounder LT is perfect for cruising, backpacking, exploring and traveling with an SUP. Learn more.
See our review of the Allrounder HERE.

NSP – O2 – Pioneer FS
The O² Pioneer FS is designed for unparalleled versatility, stability, durability and performance. A single board that offers the paddler a wide range of applications on the water. Running in the river, spending the night, fishing or racing, this board does it all! Learn more here.
See our review of the Pioneer HERE.

Thurso Surf Waterwalker
Ready to walk on water? The Waterwalker, our best-selling flagship all-rounder, is here to carry you and your gear on your next adventure, whether you're taking your first steps in SUPing or you're an experienced paddler. It's the go-anywhere, do-anything board that comes in three sizes to match your body type and paddling style. Learn more.

POP Board Co. 11'0 Yacht Hopper
The Yacht Hopper looks as much like a boat as it does a paddleboard. For paddlers who have dreamed of taking their boards further than the naked eye can see, this board is eager to cruise winding rivers, across crystal clear lakes and coastlines with hidden coves. Learn more.

Pau Hana 10'10" Solo SUP™ Backcountry
The Solo SUP™ – Backcountry is the first touring paddleboard, specifically designed for backcountry adventures. It's the darling of hippie surfers, paddleboarders and kayakers, created specifically for digital nomads who want to explore remote waterways accessible only by long hikes or portages. Learn more.

TAHE SUP-YAK with Kayak Kit
100% Kayaking, 100% Paddle Boarding, 200% FUN! The 10'6 BEACH SUP-YAK is a stable, lightweight and easy to use 2-in-1 inflatable kayak for 1 person use with plenty of extra capacity for kids, pets and gear. Learn more.
See our SUP Yak review HERE.

Slingshot Tracker 7 Airtech Package
The Tracker 7′ Airtech Package w/ sUP WINDer is the board that everyone wants to ride. From your first sessions with a windsurfing kite or sail, to hiking in remote places for a wonderful paddle, or simply as a kid's swim platform, the Tracker is everyone's favorite toy. Learn more.

iROCKER all around 11
When it comes to the All Around 11, the name really says it all. A premium offering known for its speed and stability, this board will reinvent your family vacation and transform the way you adventure. Explore solo or choose to paddle together! At 11′ long, this smooth ride supports two tandem kayak seats for double the fun. Learn more.

SUP Adventure/Fishing Aztron Polaris 11'2"
The new POLARIS 2022 11'2″ is one of the brightest stars in the new 2022 product line. The Touring-style outline and extra-wide deck provide plenty of room for all kinds of adventures. Besides the Built-in 2+1 accessory holders for rods, cooler and double-sided rig for other essential gear, this board is fully equipped with all the tools you'll need for the best adventure experiences. With AZTRON's signature Double Double Tech, the POLARIS is durable, stiff and performs well in adventure and fishing activities. Learn More.

Aztron Sonic 14′ Race SUP
The SONIC 14'0″ is simply designed to unleash your full competitive nature to reach the podium. The 2022 Flatwater version is the most progressive and fastest board in the line. The extra narrow width at just 22" combined with a Recessed deck and Mini-square tail design provides unparalleled glide per stroke and fantastic stability in chops This board performs great upwind, over light bumps and downwind The sleek and competitive design aims to giving you the confidence to handle all water conditions.Learn more.

Bay Sports Original Series – 'Wood-Look'
A limited edition 11'6 Original Series board. Our most popular touring inflatable SUP came out in a stunning wood look finish. Designed for paddlers who want a bit more speed and stability on the water, but not after a race board. Our design team crafted this 32″ wide by 6″ thick shape to deliver a streamlined board that feels incredibly stable underfoot, all thanks to its wedge tail design. The beautifully tapered nose cuts through any chop, and paired with our 3-piece Full Fiberglass SUP paddle, it's a dream to paddle. Learn more.
See our opinion on the Wood Look Original HERE.

Aquatone Playtime 11'4′ Hybrid SUP Kayak
Who knew we could fit so much fun into one bag? The PLAYTIME 11'4″ has a versatile open deck that makes it the perfect combination for a kayak and a SUP. Giving riders the flexibility to switch freely between the two styles. With optimal width and grip in the water, you find yourself making smooth, effortless transitions while on the water.

Aquatone Ocean 14′ Race SUP
The OCEAN 14'0″ is the ultimate race board that is lighter, more responsive and much faster to ride thanks to its revamped design and extra narrow width. The redesigned shape with a straighter profile leads to more speed and tracking.The pointed nose combined with an extra narrow 23″ deck provides quick acceleration and makes the board perform at the highest level and propel you to the podium. Learn more.