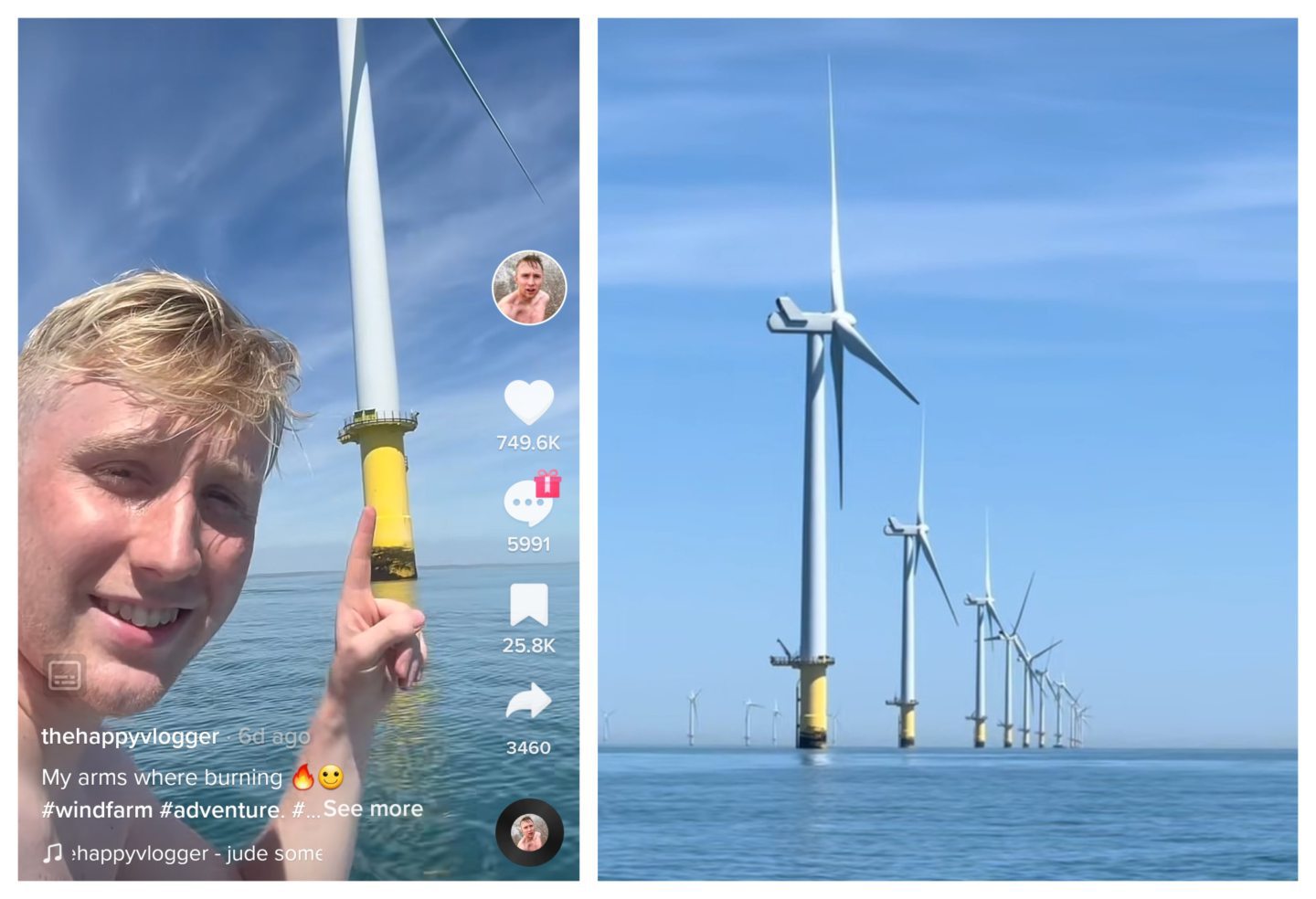 Viral TikTok branded 'reckless' after vlogger took paddleboard to wind farm
A viral TikTok video has been slammed as "reckless" after a vlogger took a solo paddleboard on a 20-mile round trip to a UK wind farm.
Jude Somers has racked up over 19 million views on the social media platform of his trip to the Rampion Offshore Wind Farm, without using a life jacket or buoyancy aid.
In the videos, he boasts of having covered "more than the distance of the English channel", telling viewers that he was "beaten" from exhaustion after seven hours at sea.
Andy Gratwick, head coach of the British Stand Up Paddle Association (BSUP), said it was "lucky" that Mr Somers did not end up in distress in the water.
He said: "This type of behavior has resulted in a number of deaths in paddleboarding.
"It's absolutely a mile away from anything we would approve of, anyone ever doing in the water. It's really quite worrying I would say.
"I spent six hours at RNLI water safety meetings on Tuesday because idiots like that are dying along the coast, so I have my head in my hands."
@thehappyvlogger

Don't try this at home🙂 #sea #SUP #surfing #standuppaddleboard #challenge #pov #vlog #scuba #windfarm #engineering

♬ original sound – jude somers
Mr. Somers has been contacted by Energy Voice for comment.
In the videos, taken last week, he said he "chose today because the weather is so calm and clear", but the BSUP said Mr Somers had put himself in a "very position exposed and vulnerable".
Mr Gratwick said: 'At sea when the wind speed hits 10 knots, which it does all the time, you will never come back, even if you are a very good paddler.
RWE, the majority shareholder of the Rampion wind farm, had no comment, but pointed to its online safety leaflet which states that weather conditions "can be very different compared to the coast" at Rampion.
Dozens of people commented on their concerns on the video, including two with more than 60,000 likes each pointing to her lack of a life jacket or buoyancy aid.
In the final video, Mr Somers recounts his exhaustion – and sunburn – after a total of eight hours at sea.
While at the Rampion Offshore Wind Farm, 10 miles off the English Channel, he said "it really is the worst place to die, so I'm trying to be careful".
@thehappyvlogger

😴😴😴 #windfarm #adventure #pov #vlog #SUP #sea #surfing #standuppaddleboard #challenge #engineering

♬ original sound – jude somers
Mr Gratwick, from BSUP, reacted: "There are three things you should think about are your location, your flotation and your communication before you paddleboard.
"Its flotation is compromised and its location is unsuitable. His communication – he has a phone, which is great – but you need flotation, and the location was not suitable.
"I would say it was more luck than judgment that he executed this."
Paddleboarding has grown in popularity, growing from 1.8 million activities per year in 2020 to 3.7 million in 2021, leading to a "range of behaviors" and increased calls to emergency crews.
Samantha Hughes of the RNLI Water Safety Team said: 'Paddleboarding, kayaking and canoeing are all hugely popular, particularly in the summer months, and the RNLI has seen a big increase in our lifeboats and our beach lifeguards to assist those involved in these types of activities over the past few years.
"That's why it's important to know some simple safety tips that could save your life. If you go out on the water, we always advise you to wear a personal flotation device suitable for your activity.
"If you're on a paddleboard, choose the right releasable leash for where you're paddling."
Other measures like wearing a board leash and having a communication device are also advised.
A Maritime and Coastguard Agency spokesperson said: 'We encourage everyone to enjoy our coastline safely. Our advice is to check the conditions before you go and make sure your skill level is suitable for where you are paddling or kayaking. It is recommended that you wear a buoyancy aid and have a way to call for help such as a cell phone in a waterproof pouch.
"It's always a good idea to tell someone about your plans. Downloading the RYA SafeTrx app is an easy to use way to automatically notify HM Coastguard of your travel plans, dynamic location and even a direct 999 connection in case of distress.