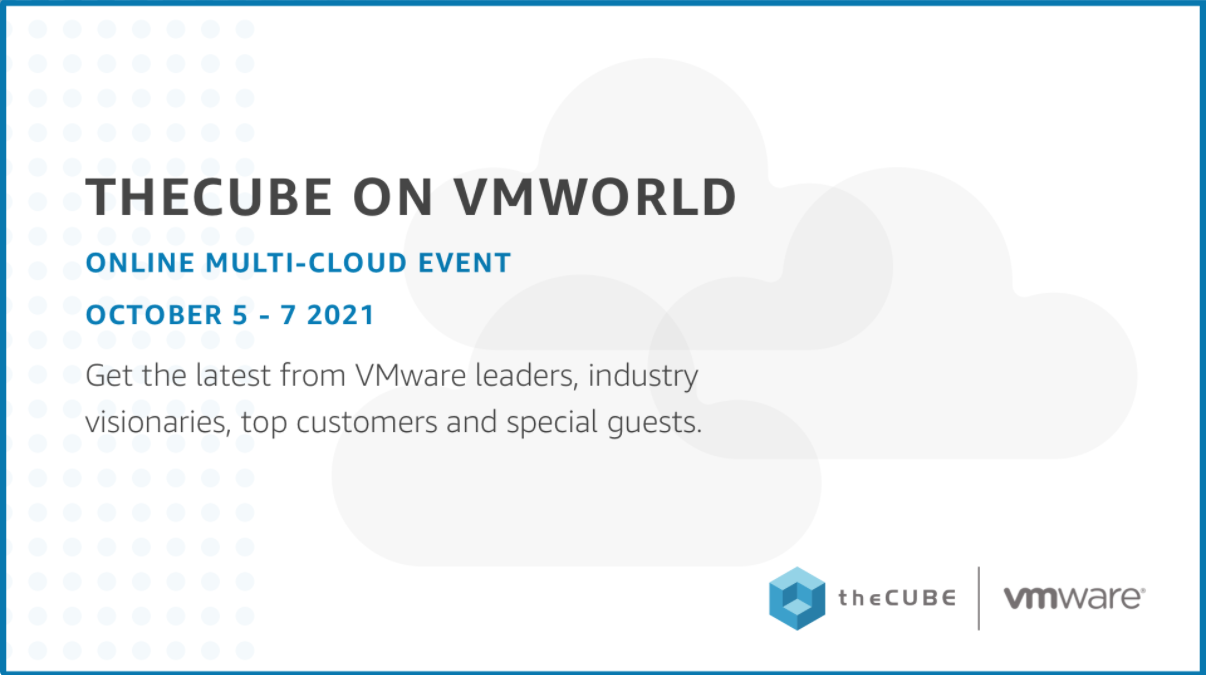 VMworld Offers Opportunity To Evaluate VMware's Future Plans For Tanzu And Telco Cloud, October 5-7
During his 23 years, VMware Inc. took on the character of a big wave surfer. The company has managed to ride a slew of major tech waves and came out on the other side relatively unscathed.
This journey included following a huge wave from the data center to the cloud and all the way to the edge, roaming the waves generated by containerized workloads and enterprise applications and navigating the competitive sea of major industry players by forming partnerships with heavyweights such as Amazon Web Services Inc., Google Cloud and Microsoft Azure.
As VMware prepares for its VMworld event in October, the central question in the minds of industry watchers will be: what big wave will the company ride next?
For answers to this and other key questions, theCUBE, SiliconANGLE's live streaming studio, will be covering the VMworld event October 5, starting at 10 a.m. PDT, through October 7, ending at 5 p.m. PDT. Coverage will include interviews with VMware executives, industry visionaries, leading customers and special guests. (* Disclosure below.)
Focus on Tanzu
A key area of ​​VMware business that deserves to be watched is Tanzu. The company plans announced for its Tanzu platform in 2019 as a way for developers to build and manage modern container-based applications, and since then it has been actively unveiling new products for the portfolio.
Tanzu Kubernetes Grid and Tanzu Mission Control were introduced in March of last year. Tanzu was injected in vSphere, vSAN and VxRail and supplied with a a set of tools to focus on DevSecOps. Earlier this year, VMware launched a new platform who combined their NSX Advanced Load Balancer with Tanzu Service Mesh and brought Tanzu and VMware Cloud Foundation into a single entity under the VMware Cloud brand.
In a measure of the importance of Tanzu to VMware's business, the newly installed general manager Raghu Raghuram described the platform market as "massive" in a first press conference in February and again to another media event in September.
In a long maintenance with theCUBE, Chief Operating Officer of VMware Sanjay Poonen stressed the importance of Tanzu in the long-term strategy of the company.
"Much of the world during the pandemic is now e-commerce and curbside pickup; people don't go to the store, "Poonen said. "Everything is based on Tanzu. I don't think it will be 20 years before there are a billion containers, and we are looking to be the leader of that platform.
Telco and edge addressing
It has become more evident over the past two years that a key part of VMware board strategy is linked to his pursuit of Telecommunications cloud. This is based on the belief of the company, as expressed by Michel Dell exclusively maintenance with theCUBE, that 75% of the data will be processed outside the data center within the next four years.
From VMware purchase from 5G radio access optimization provider Uhana Inc. in 2019 to its Partnership with Korean telecommunications giant SK Telecom Co. Ltd. To facilitate the delivery of 5G and edge content earlier this year, the evolving telecommunications strategy has been in the news. In April, the company published its VMware Telco Cloud RAN platform as part of an extension of its technology stack for network operators.
The telecommunications push is also linked to VMware's positioning of vSphere 7 for hardware virtualization. Last years VSphere version showed how this technology will play a key role in the company's hybrid and container solutions in the future.
"A lot of these applications deployed at the telecom edge are container applications," said Paul Turner, vice president of product management for vSphere at VMware, in a maintenance with leCUBE. "We have a platform with vSphere 7 that can give telecom and 5G network deployments a much more secure and predictable runtime environment. "
The spin-off is coming
The October VMworld Gathering comes at an interesting time for VMware as a whole. After having been acquired by Dell Technologies Inc. in Massive $ 67 Billion EMC Purchase in 2016, VMware Will Be Derived in November by Dell and become an independent company.
In an interview in August, VMware's Raghuram said the planned divestiture was always on the right track. He also indicated that by becoming independent, the company will have more opportunities to partner with companies that see Dell as a competitor. VMware can now "be the Switzerland of industry", according to Raghuram.
However, nothing is as easy as it sounds in the tech world. There have been speculation among some analysts that a marriage between Intel Corp., which is now headed by the former CEO of VMware Pat gelsinger, and VMware could be in the future. It should also be noted that Michael Dell and his investment firm retain majority ownership VMware shares, despite the spin-off.
"It's about paying down debt, restructuring Dell's balance sheet and unlocking value for Dell's core, without spoiling the 'special relationship' they have with VMware." says Dave Vellante, chief analyst at Wikibon, SiliconANGLE's sister market research firm. "It's a classic cake-and-eat-it strategy, too – pretty cool, actually. "
TheCUBE livestream on VMworld
TheCUBE on VMworld is a live event, with additional interviews to be broadcast on theCUBE. You can register for free here to access the live event. Additionally, you can watch theCUBE event coverage here on request after the live event.
How to watch CUBE interviews
We provide different ways for you to watch live coverage of theCUBE on the VMworld event, including the CUBE dedicated website and Youtube channel. You can also get all the coverage of this year's events at Silicon ANGLE.
The CUBE Insights podcast
SiliconANGLE also offers podcasts of archived interview sessions, available on itunes, Stapler, and Spotify, which you can enjoy on the go.
Guests
During VMworld, theCUBE will talk with Raghu Raghuram of VMware, CEO; Carol Carpenter, Senior Vice President and Chief Marketing Officer; Sandy Hogan, senior vice president of the global partner and sales organization; and Sumit Dhawan, President.
Also during the event, theCUBE will interview Kit Colbert of VMware, CTO; Tom Gillis, executive vice president and general manager of the Networks and Advanced Security business group; Mike Hayes, Executive Vice President and Director of Digital Transformation; and Sanjay Uppal, Senior Vice President and General Manager of the Edge Service Provider and Business
Stay tuned for a full list of speakers.
(* Disclosure: TheCUBE is a paid media partner for VMworld 2021. Neither VMware Inc., the event coverage sponsor of theCUBE, nor other sponsors have editorial control over the content on theCUBE or SiliconANGLE. )
Photo: SiliconANGLE
---
Show your support for our mission by joining our community of Cube Club and Cube Event experts. Join the community which includes Amazon Web Services and Amazon.com CEO Andy Jassy, ​​Dell Technologies Founder and CEO Michael Dell, Intel CEO Pat Gelsinger and many other luminaries and experts.