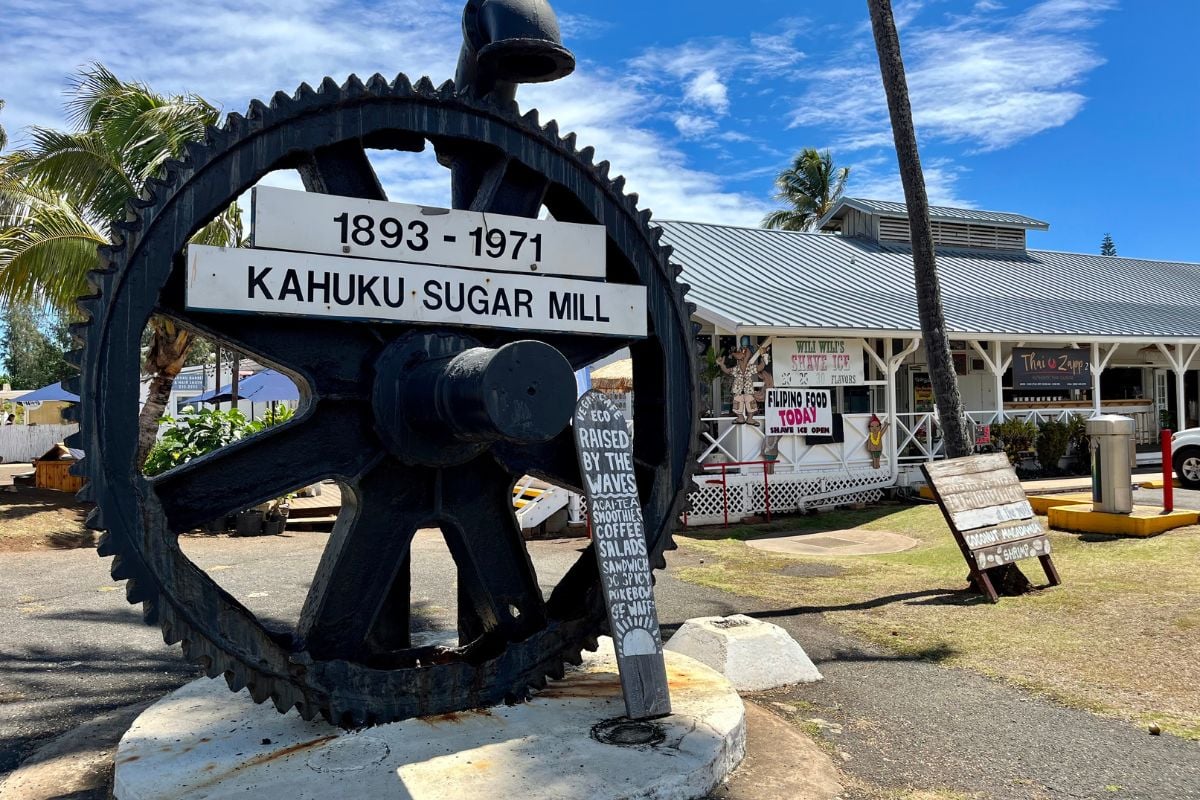 Your Guide to Kahuku Town on the North Shore
When people think of the Golden North Shore of Oʻahu, Haleʻiwa is often the city that comes to mind. But those who drive further north will find the small town of Kahuku. Located on the northeast coast of Oʻahu, the town of Kahuku sits between Haleʻiwa and Laie.
During Hawaii's sugar era, Kahuku was once a thriving agricultural center thanks to the Kahuku Sugar Mill. Since the end of the industry, Turtle Bay Resort now attracts guests as well as film productions to the area. But there is so much more to Kahuku. Travelers will find streets lined with famous North Shore shrimp trucks as well as local farms and colorful shops to visit. So be sure to visit hungry Kahuku.
1. Refuel at the Country Eatery & Juicery
Start a day in Kahuku with a nutritious meal. After all, the rest of the day will be filled with butter-fried shrimp. At the Country Eatery & Juicery, diners can sit in an airy courtyard to eat egg roll sandwiches and veggie burritos, stuffed with roasted sweet potatoes and caramelized vegetables. Before you go, be sure to grab an organic cold-pressed juice or a natural soda for the road.
56-565 Kamehameha Highway, Kahuku, thecountryeatery.com.
2. Hike to the northern tip of Oʻahu
Venture to the northernmost tip of Oʻahu, also known as Kahuku Point. From the Turtle Bay Resort parking lot, it's a leisurely walk past tranquil stretches of stunning white sand beaches. Along this flat, child-friendly trail there are plenty of places to swim or rest on a secluded beach. And here, hikers can enjoy stunning views of the Pacific Ocean. Seabirds can be spotted and sometimes also Hawaiian monk seals. There are also connecting paths for longer hikes east and west of Turtle Bay Resort.
3. Stop by to shop at Full Fathom Five
Eclectic art and antique collectors should stop by Full Fathom Five. The art gallery is in a cluster of colorful shops and features works by dozens of local artists. Here shoppers can find unique paintings, sea glass jewelry and koa wood postcards.
56-931 Kamehameha Highway, Kahuku, fullfathomfivehawaii.com.
4. Savor a buttery lunch at Fumi's Kahuku Shrimp
With its brilliant azure blue exterior, Fumi's Kahuku Shrimp is impossible to miss – and you don't want to. At this restaurant, the shrimp are coated in a rich buttery garlic sauce. For those who prefer fiery flavors, spicy garlic is one of the most popular options. And each plate also comes with two rice balls, which get a generous layer of garlic sauce. While there are dozens of shrimp trucks dotting the Kamehameha Highway, Fumi's has bathrooms and an outdoor sink, a much-needed amenity after a plate of buttery shrimp. Remember that Fumi's only accepts cash.
56-777 Kamehameha Highway, Kahuku.
5. Learn how
the açaí for your açaí bowl is grown at Kahuku Farms
Don't miss the chance to ride in a tractor-drawn cart at Kahuku Farms. At the family farm, wagon tours take guests throughout the property to show modern farming practices first-hand. Tours also explain the rich history of agriculture in Hawaiʻi and its influence on the islands. Throughout the tour, visitors will spot crops like Brazilian dwarf bananas, Japanese eggplants, and lūʻau leaves for laulau. Kahuku Farms also grows acai, a marble-sized berry that blooms on tall palm trees. While acaí bowls can be found on menus across Hawaiʻi, Kahuku Farms Café's acai bowls are made with locally grown berries. Tours are only available on weekends, but visitors can still walk around parts of the property during the week.
56-800 Kamehameha Road, kahukufarms.com.
6. Visit the shops at Kahuku Sugar Mill
Farm-to-table cafes, tasty food trucks and trendy boutiques surround the Kahuku Sugar Mill. There is even a local brewery. While in Kahuku, be sure to stop by Seven Brothers Kahuku Marketplace. From colorful snorkel masks to pillows and homewares, you'll find something to buy. And if lunch wasn't filling, the shop also sells sweets, pastries and SPAM musubis.
56-565 Kamehameha Highway. Kahuku.
7. Order a decadent bowl at Kalo Bombs
Forget the shrimp trucks, head to Kahuku to try a kalo bomb. Here, Kalo Bombs revisits paʻiʻai, which is a traditional Hawaiian staple. Paʻiʻai is made by hammering kalo (taro) a bit like poi. This is actually the stage of kalo before it was considered poi. At the base of each bomb is ice cream, followed by a generous scoop of fresh paʻiʻai. It is then topped with a drizzle of coconut cream and a sprinkle of coconut flakes. On Saturdays, the restaurant also offers thrust bombs and bike bombs. The biko bomb is made with haupia ice cream and biko (Filipino sticky rice). It is also topped with paʻiʻai and coconut confectionery.
56-270 Leleuli Street, Kahuku, facebook.com/kalobombsnorthshore.
8. Enjoy a relaxing stay at Turtle Bay Resort
Turtle Bay Resort offers a peaceful escape from the crowded streets of Waikīkī. For this reason, the North Shore beachfront resort has long been a favorite of visitors and vacationers alike. kamaʻāina (long-time residents). In early 2020, the complex underwent extensive renovations, transforming the property to exude a natural yet elegant and modern essence. It is an idyllic place to relax. While adults can relax in the adults-only pool, kids can experience the surfing experience of Jamie O'Brien, a professional surfer. And guests must visit Alaia, the resort's new restaurant. The menu features fresh dishes with vegetables sourced directly from the Turtle Bay Resort's on-site farm.
56-091 Kamehameha Highway. Kahuku (866) 475-2569, turtlebayresort.com.